Awakening the Leader Within: A Story of Transformation by Kevin Cashman and Jack Forem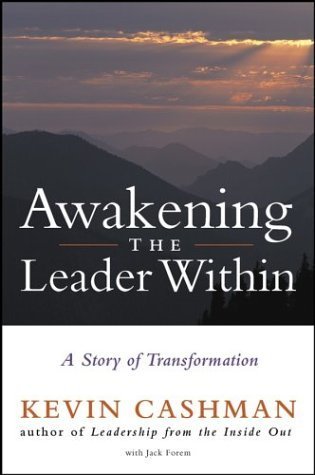 I would recommend this book to anyone ready to contemplate a more personal and holistic approach to leadership and to those looking to lead the movement towards the development of a more ethical and sustainable business model for their organization.
--David Taylor, Business Development Manager at Linkage, Inc.


Amazon Reader Reviews:
"Kevin Cashman's book is a classic. It combines his soulful insights about authentic leadership with a gripping and realistic tale of the realities confronted by a contemporary executive torn between the bottom line and what's really important in leadership and life.It addresses the greed seeking, short term focus and trends so prevalent in executive suites today. If you are a father and a results driven executive you'll weep when you read this book. I did. It's a singular clarion call just when we need it the most."

"It was phenomenal! I read it in one sitting. It was engrossing, thought-provoking and a very compelling look at business values."

"Many readers have already provided insightful reviews. I just want to mention that the reason that this book is a compelling read is the beautiful story-telling by Kevin Cashman. You can relate and empathize with the characters. It works because we all love good stories."

Bensen Quinn, CEO of HighQuest, a multi-billion dollar, multi-national outdoor and sports apparel company, faces a dual crisis that shakes both his personal and professional life: his beloved teenage daughter has been in a car accident and is lying in a coma; his company is being accused in a major media expose of operating factories that are little more than sweatshops.

Shocked into an unaccustomed soul-searching about the meaning and legacy of his life and work, Quinn realizes that his enormous success, his wealth and prestigious position, have come at too great a price. Not only has he spent far too little time with his wife and daughter, he has also abandoned the service-oriented ideals of his youth, in favor of climbing the corporate ladder. Perched--now precariously--at the top, he realizes that it is time for a change, but he is bewildered: out of touch with his own core values, enmeshed in the corporate mentality, he craves change but does not know which way to turn.

A man of action, he undertakes an unannounced trip to one of the company's offshore production facilities. What he sees confirms the "sweatshop" allegations. The conditions he encounters, and a meeting he has with the family of one of the workers, leave him determined to transform the company as well as himself. But: can he overcome the objections of the conservative Board of Directors, which wants to maintain business as usual?

Bensen Quinn's awakening to self-knowledge and a new mode of action is facilitated by several important characters. His daughter Katie, a teenage activist, was the first to challenge him to act according to conscience rather than obey conventional standards. Sitting by her bedside as she remains in her coma, he appreciates her spirit and the innocent wisdom of her idealism, and pledges to live a life that will make her truly proud. Emily, Quinn's wife and close friend since their college days, encourages him to reawaken to values he believed in--and acted on--when they were young. Anne Holmes, a protégé at HighQuest, challenges him to move beyond the old, bottom-line-driven paradigm of business to a broader vision that adds a new dimension to the quest for profit: work as a means of authentic, meaningful self-expression and unfoldment of creative potential, a way to add value to the broader community.

Most of all, Quinn is guided by his elderly Asian gardener, Kenji, who gently and unobtrusively offers him insights and principles that open his eyes and his heart to deeper values. The friendship between these two men grows, as Quinn realizes the gifts he is being offered by this man of wisdom and insight, who teaches as much by his calm and powerful presence as by his words. Late in the book, after Quinn's visit to the sweatshop facility but before he has taken firm action to redirect the company, Kenji falls seriously ill. On his deathbed, he reveals his own life story to Quinn, and commissions him to take the knowledge he has been given--the six seeds of leadership--and offer it to others.

The story is sustained by two lines of suspense: Will Katie recover from her coma? Will Quinn be able to change his own ways, and find the courage to challenge the powerful, entrenched status quo? Facing the possibility of his daughter's death, enduring the difficulties of self-transformation, questioning the sanity of confronting the Board, and dealing with the death of his teacher before he has fully "graduated," this highly successful man is challenged as he has never been challenged before.

The six seeds of leadership are underplayed in the book. However, at the back of the book, a 50-page Growth Guide blends exercises, reflections, stories, and explanations to enable readers to more fully understand these six profound principles, and apply them to their lives.

Review by Lydia Morris Brown in Business Book Reviews, November 2003:

"Cashman believes that many of the business, political, ethical, and spiritual dilemmas individuals face today in their personal and professional lives are symptomatic of a larger crisis of authenticity and purpose. In his 20-plus years experience in coaching senior executives, he has seen that being genuine, purposeful, and principled is the requisite foundation upon which to build character development and effective living--the essential ingredients of great leadership. Becoming a more effective leader, no matter in what area of life, requires becoming a more real, more integrated, person.

"Awakening the Leader Within provides a 'comprehensive personal coaching experience,' to help everyone begin their own journey to authenticity and purpose and make a much greater contribution to society?one that goes beyond merely meeting performance goals. It utilizes an interactive process that begins with the inspirational story of a natural leader, Bensen Quinn.

"After his high-achieving college career, and after 20 years of 60- to 70-hour work weeks, he becomes chairman and CEO of the highly successful multinational corporation he had helped to create--but it is a world without authenticity or passion. Despite the fact that his executive team always surpasses its goals, Bensen is never satisfied. He always wants more, but he always neglects to do much to foster a spirit of partnership beyond what is necessary to make the numbers. Profit and achievement are all that matter; nonetheless, that profit is about to be threatened when the company is accused of bribery and sweatshop conditions in its offshore operations.

"Bensen's relationship with his family is no better than his relationship with his executive team. His wife and daughter accuse him of having conveniently forgotten the ideals and values of his youth; thus, instead of being engaged with people, he is engaged with his business and only his business.

"Bensen's wake-up call begins early one morning when he and his wife receive the call that their daughter has been seriously injured in an auto accident. It is the beginning of a transformative journey to a new way of leading and living as Bensen attempts to bring together all the separate parts of his life into a more meaningful whole. In this hero's journey, Bensen explores what is missing in his life and is triumphant in his return to roles that are authentic, purposeful, and allow him to make a genuine difference as a person, a family man, and a corporate leader.

"This story takes readers far beyond the typical business book focus of theory, concepts, and guidelines so they can get past their heads and experience their hearts. However, Awakening the Leader Within is also a coaching guide that uses questions--the 'language of coaching'--reflections, and brief exercises to make readers stop and think, reflect, gain new insights, and make new commitments. In addition, an interactive 'Growth Guide' is provided as a means of allowing readers to consolidate all they have learned into a process of commitment and action. Thus, page after page provides myriad opportunities for both professional and personal breakthroughs that, in addition to leveraging the power of the heart, also leverage the power of the mind and of action toward the kind of authentic leadership that can have an immediate and daily impact on performance."