Healing with Pressure Point Therapy: Simple, Effective Techniques for Massaging Away More Than 100 Common Ailments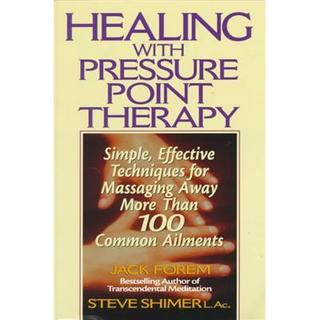 For thousands of years, simple but very powerful finger pressure techniques have been part of the natural healing systems of China, Japan, India and other great civilizations around the globe. In this book, we have gathered the hands-on healing wisdom of these ancient traditions, as well as some more recently developed Western pressure point practices, and distilled this extraordinary knowledge for you in a simple, easy-to-use format.

This book will help you claim the healing power in your own hands to bring relief from pain and eliminate a wide variety of common ailments without drugs or expensive medical procedures, and with no side effects. With the help of these pressure point therapies you will be able to safely and simply restore balance, renew energy and vitality, relieve stress and tension, and alleviate everyday aches and pains and common complaints such as headaches, menstrual cramps, neck pain, and eye strain. You will learn how to help your body heal itself.

These methods are easy to learn and enjoyable to use, whether on yourself or on someone else. The vast majority of the pressure points can easily be reached, so self-treatment is both possible and comfortable.

In addition to their ability to quickly and safely relieve pain and alleviate many health problems, the pressure point healing systems explained in these pages help make a person stronger and less likely to become sick. They are also valuable for rebuilding the body after illness or after being treated with drugs or surgery.

Modern Western medicine has focused its attention primarily on curing disease, rather than on creating health. Its expertise lies in using surgery and medications to restore health once a person becomes ill. Many lives have been saved by this approach, sometimes almost miraculously. However, drugs often have toxic side effects which weaken the body, causing future problems which then have to be treated with more drugs.

The approach of the natural healing systems from the East is quite different. Their primary goal is not to heal disease once it occurs, but to prevent it. These systems encourage good health by paying close attention to balance in one�s own life through diet, exercise, meditation, and so on. If disease does occur, they aim not just to remove the symptoms, but to strengthen the body and mind and correct harmful lifestyle habits so that similar problems will not recur.

The pressure point therapies explained in this book come from the traditional healing systems of several cultures, but all of them are based on an understanding of the human body as a dynamic, living organism, flowing with the energy of life itself. When the energy flow within a person becomes blocked or goes out of balance, the door is open for disorder and disease. When the flow of Life Energy is balanced, the body's natural defense systems remain strong and health is maintained.

The premise of this book--one proven by thousands of years of medical practice throughout the world--is that the Life Energy can be enlivened by the healing power of touch.

In writing this book, Steve Shimer and I worked long and hard to create a book that would be truly helpful. We aimed to be complete, comprehensive, and holistic. We focused not only on healing conditions that already exist, but on strategies for prevention and for maintaining good health. And we included not only pressure point procedures that anyone can use, but other natural approaches as well, such as simple exercises and stretches, diet (helpful foods and foods to avoid), meditation and stress management, herbs, supplements, etc. We drew from useful knowledge of both East and West. In addition to specific procedures for about 100 conditions (organized in an easy-to-use A to Z format) we've included a "Daily Health Builder," and "Eleven Universal Guidelines for Healthy Living." We've also included over 200 illustrations, to help you locate each point precisely. We hope you enjoy the book and find it helpful.

TABLE OF CONTENTS

Introduction; PART ONE: FUNDAMENTALS OF PRESSURE POINT THERAPY

Chapter 1: Where Do Pressure Point Therapies Come From? The Body As Energy; Revival of an Ancient Wisdom.

Chapter 2: How Pressure Point Therapies Work: Ch'i (Ki), The Vital Life Energy; Science Validates Pressure Point Therapy; Yin and Yang, the Feminine and Masculine Meridians, Channels for the Flow of Energy; Pressure Points,The Body's Energy Trigger Points; "Helper" Points.

Chapter 3: The Benefits: What Pressure Point Therapy Can Do For You: Reduce Your Stress Level; Improve Circulation and Eliminate Toxins; Increase Immunity; Eliminate Unwanted Habits; Relieve Pain and Heal Chronic Illness; Prevent and Heal Exercise-Induced Injuries; Bring Out Your Natural Beauty; Establish A Better Relationship With Your Body; Prevent Illness, Promote Good Health.

Chapter 4: Getting Acquainted With The Pressure Point Therapies: Acupressure; Shiatsu; Reflexology; Other Methods.

PART TWO: WHAT YOU NEED TO KNOW

Chapter 5: Illustrations of Points and Techniques: Acupressure; Shiatsu; Reflexology; Yoga; Ten Master Acupressure Points.

Chapter 6: Getting Started: Acupressure and Shiatsu: Preparing for Your Pressure Point Session; Quick Warm Up; Breathe Deeply for Extra Relaxation; Four Basic Pressure Point Techniques; How to Apply Pressure.

Chapter 7: Getting Started: Reflexology: Relaxation Techniques; The Basic Reflexology Techniques; How to Use Reflexology for Prevention and Healing.

Chapter 8: Getting Started: Other Methods.

Chapter 9: Helpful Hints To Maximize Your Results: Improve Your Benefits with Visualization; Make it a Habit; For Best Results, Take a Holistic Approach to Your Health.

PART THREE: PRESSURE POINT SELF-HEALING--AN "A" TO "Z" GUIDE:

Acne
Allergies
Amenorrhea
Anemia
Angina
Anxiety
Arthritis
Asthma and Difficulty Breathing
Back Pain
Bad Breath
Beauty Secrets Using Pressure Points
Breast Health
Breastfeeding Problems
Burnout
Carpal Tunnel Syndrome
Circulatory Problems
Colds
Constipation
Coughs
Daily Health Builder
Depression
Dermatitis
Diarrhea
Dizziness
Dysmenorrhea
Ear Aches
Eating Disorders
Eczema
Energy Tune-up
Eyestrain and Vision Problems
Fatigue
Flatulence
Hay Fever
Headaches
Hearing Problems
Heart Disease
Heart Tune Up
Heartburn
Hemorrhoids
Herpes
Hiccups
High Blood Pressure
Hoarseness
Hot Flashes
Immune System Tone-up
Impotence
Incontinence
Indigestion
Insomnia
Joint Pain
Knee Pain
Menstrual Difficulties
Menopause Problems
Migraines
Morning Sickness
Motion Sickness
Nausea and Vomiting
Neck and Shoulder Tension
Nervousness
Pain
Panic Attack
Pregnancy Problems
PMS
Prostate Problems
Sciatica
Sexual Problems
Shoulder Pain
Shoulder Tension
Sinus Problems
Skin Problems
Sore Throat
Stiff Neck
Stomach Problems
Stress and Tension
Swelling and Water Retention
Tinnitus (Ringing in the Ear)
Toothache
Weight Control
Wrinkles
Wrist Pain

RESOURCES
Recommended Books on Pressure Point Therapy
How to Find a Good Pressure Point Therapist

Reader reactions from amazon.com:

"Hooray! Finally, a highly trained expert in the field has written a superb book on acupressure that is head-and-shoulders above all other such books in print. This book provides a beautifully written, easy to understand summary of the basics of Chinese medicine, plus a clear, well illustrated guide to acupressure, shiatsu, and reflexology for almost any disease you can think of."

"I was looking for a book that would teach me how to perform acupressure on myself or others. Jack Forem's book does this, and more: it also covers basic reflexology, Shiatsu, and contains sections with additional suggestions to speed recovery. I highly recommend this book to anyone who wants something practical about acupressure on their bookshelf."

"I've read many books on acupressure and other forms of pressure point massage but this book, more than any of the others, has had a profound effect on my health and my relationship with the world around me. It's not just a book on how to, but a guide and teaching tool to live life more fully. I urge everyone to read it. It helps."