Transcendental Meditation: The Essential Teachings of Maharishi Mahesh Yogi The Classic Text Revised and Updated by the Author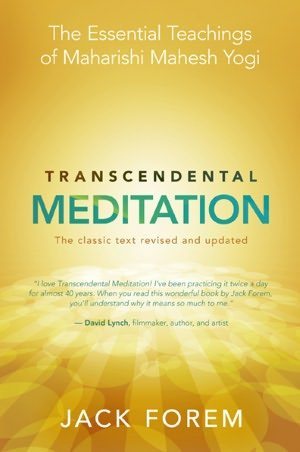 Book Description
Transcendental Meditation (TM) is a simple, natural method of allowing the mind to go beyond thoughts and gain access to the silent inner field of creativity, energy, peace, and happiness that is our own essential nature, our Self. Widely known and prescribed by physicians for its powerful stress-reducing effects, TM is much more than that. Maharishi Mahesh Yogi (1918-2008), who brought TM to the West, said that TM offers any individual not only a gateway to the highest spiritual unfoldment (Enlightenment), but also "sound physical and mental health, greater ability in action, a greater capacity to think clearly, increased efficiency in work, and more loving and rewarding relationships with others." Five million TM practitioners around the world, and more than 360 published, peer-reviewed scientific studies have consistently corroborated these lofty claims.

Described as "a great book, by far the most comprehensive on the TM Program" when it was a bestseller in its original version, Jack Forem's study of TM became a much-loved classic. This updated edition contains all the features of the original plus much more. Clear, easy-to-read diagrams explain scientific research showing TM's beneficial effect on the brain and a broad spectrum of contemporary concerns, from health, self-actualization, and development of intelligence, to post-traumatic stress disorder (PTSD), attention deficit/hyperactivity disorder (ADHD), and much more. In these pages, Oprah Winfrey tells how she has offered TM to everyone on her staff. Dr. Mehmet Oz explains the benefits of TM for heart health. School principals describe the dramatically positive effect on their students when TM is introduced in the classroom. Interviews with celebrities as well as men and women of every age, background, and religion provide a lively testimonial to the efficacy of TM in making anyone's life happier, healthier, and more creative.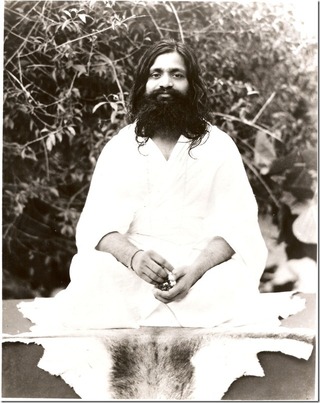 Praise for Transcendental Meditation
"In the ongoing transmission of India's practical wisdom to the West, nothing has had a bigger impact than Maharishi Mahesh Yogi and his Transcendental Meditation. This engaging and comprehensive update of Jack Forem's seminal book is well timed, as the knowledge it contains is vital in our stressed-out, plugged-in era."
— Philip Goldberg, author of American Veda:
From Emerson and the Beatles to Yoga and Meditation,
How Indian Spirituality Changed the West

"Jack Forem's groundbreaking book, Transcendental Meditation, inspired thousands of people, including myself, to learn meditation and investigate the scientific basis behind its effectiveness. In this new edition, he brilliantly distills all the latest advancements and hundreds of scientific papers published in leading academic and medical journals. As Maharishi himself said about the original edition, this book 'offers a clear, comprehensive, and thoughtful presentation of the essence of our teaching,' and that is certainly true of this new edition as well. I strongly encourage everyone to read this book and to take full advantage of the programs it describes. It is an invaluable resource for all who desire a bright future for themselves and for our world."
— John Hagelin, Quantum Physicist and Educator
President, Global Union of Scientists for Peace
Featured in What the Bleep Do We Know!? and The Secret

"A comprehensive, reader-friendly study of the teachings of a great modern master. Jack Forem's book isn't just about the TM technique and its massive body of scientific research, but it reveals practical and enlightened approaches to the fields of education, health care, personal relationships, psychology, religion, and business, and a novel and powerful strategy for achieving world peace. Informative and inspiring!"
— James S. Brooks, M.D., co-author of Ayurvedic Secrets to Longevity & Total Health, Medical Director of Mental Health Centers in Chariton and Fairfield, Iowa

"As a rabbi and longtime practitioner of the TM program, I particularly appreciate the new chapter on Religion and Spirituality in Jack Forem's book. Jack quotes Maharishi Mahesh Yogi's teaching that religions have 'one common ground: that the light of God is kindled in each heart.' This is what TM accomplished for me in my life. I never would have desired to become, nor would I have been able to succeed as a rabbi, without the spiritual awareness that the practice of TM awakened in me."
— Alan Green, Senior Rabbi, Shaarey Zedek Synagogue, Winnipeg, Canada

"Many books have been written about the Transcendental Meditation technique and the array of benefits enjoyed by those who practice it. Jack Forem's book stands out not only because it is eminently readable and entertaining, but because it is such a clear and comprehensive introduction to TM, the principles behind it, and the research demonstrating its effectiveness. It's a joy to read and a breath of fresh air. "In addition to delineating the value of TM for individuals, Forem explains cutting-edge, paradigm-shifting research showing that groups of people practicing TM together have significantly reduced tension and hostility in the environment. He argues persuasively that in TM, we have a technique to benefit the individual and at the same
time generate harmony and reduce stress in society as a whole. "This is a book to read and take to heart."
— Gary P. Kaplan M.D., Ph.D., Associate Professor of Neurology, Hofstra University School of Medicine

"Jack Forem's new book on Transcendental Meditation offers a wealth of research with real-world examples of how TM can increase personal and corporate success and effectiveness. This book offers numerous examples of how this simple technique has had a tremendous effect on people from all walks of life. I know it has helped me, my family, my company, and my clients."
— Nancy Slomowitz, President & CEO, Executive Management Associates, Inc., author of Work Zone Madness! Surviving and Rising Above Workplace Dysfunction

First Amazon Reader Review:

Still the best book on TM and Maharishi October 2, 2012
By ashtangakasha

I remember reading this book in 1973, when it first came out, and being impressed by its clear and friendly style. The book was genuinely helpful in understanding what meditation is (Transcendental or otherwise), and who Maharishi is and what he was trying to accomplish. This was done without any of the emerging "new age" jargon or vagueness that later came to be associated with terms like meditation, yoga, guru, and the like.

Since that time (full disclosure) I have become friends with Jack Forem, and we have stayed in touch for the last 40 years. Many books on TM and/or Maharishi have come out, some good and some utterly misinformed. It's a great relief to me that Jack's book is now back in print, significantly revised and updated, to serve as the most accessible and most complete account of what Maharishi taught to so many people for so many years. The other books have individual appeal, but this -- to me -- is the one that covers all the bases, and does so without selling anything or "debunking" anything. TM works, and there's no significant debate in the face of hundreds of studies of its benefits, but how and why it works are good to know.

For decades I've recommended the original version of this book (long out of print) to all kinds of people, and none of them has ever had a bad word to say about it. Now that it's been brought up to date, and is back in print, I look forward to recommending it for another few decades. If you're already practicing TM, this book may clarify a lot of things for you. If you're just curious, or want to get a more realistic idea who Maharishi was, this book is a great introduction (with plenty of depth as well). If you're thinking of trying TM for yourself, this book is like a long weekend chatting with a friendly expert. (Learning TM doesn't take that long, but learning ABOUT it is pretty fascinating.)

For information on the TM technique, and Videos of Maharishi Mahesh Yogi:

There is a wealth of information on TM on the Internet. For information about the practice, research studies, and how / where to learn it, visit TM.org. (See link below)

Several hundred videos of Maharishi are on YouTube. One site that has about 100 is available in the Quick Links at the top of this page.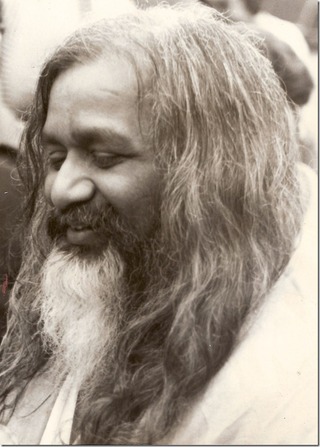 Learn about Transcendental Meditation
Main site for information on TM in USA
Book Excerpt
Introduction

Meeting Maharishi

University of California, Berkeley—November 8, 1966.

A cold wind was rushing up from San Francisco Bay and climbing
toward the hills. Huddling against the chill, I noticed some posters still
up around campus as I hurried to enter California Hall. When I arrived,
the talk had already begun. The large lecture hall was so packed that
dozens of people overflowed into the corridor and, like them, I had to
listen to the presentation over a loudspeaker.

The speaker's musical voice, with its slight Indian accent, was soft
yet full of life, calm but extremely expressive. He was talking about
life in contemporary society, noting that "as the rate of progress increases,
as the pace of life becomes faster and man's aspirations expand
to the moon and the stars, the responsibilities and pressures of
life naturally become greater." But, he pointed out, our capabilities
are not expanding at an equivalent rate. "Because people have not
been able to find sufficient energy and creative intelligence within
themselves to meet the demands of life . . . frustration, unhappiness,
and lack of fulfillment are increasingly common."

The speaker likened the situation to living in a building in which
the walls have begun to crack. If the building is to continue to stand,
the foundations have to be strengthened. He proposed the technique
of Transcendental Meditation (TM) as a way to restore balance, to give
strength and dignity back to human life. He described TM as a simple
method by which any individual could tap into the inner source of
thought, a "reservoir of unlimited energy, intelligence, power, peace,
and bliss" deep within the mind. When a person utilizes this field of
unlimited potential, he said, "all aspects of his life flourish, in the same
way that the branches, fruits, and leaves of a tree flourish when the
roots maintain contact with the field of nourishment in the soil."

Then he took his vision one step further, beyond the individual,
and it was this final point that captured my full attention. When people
meditate, he said, the deep inner peace they experience creates
what he referred to as "a warm air" around them, an influence of
harmony and positivity. If enough people in society produced such
a harmonious atmosphere, negativity and stress in the environment
could be reduced or even eliminated, and world peace could become
a reality.

Even as a young man, I had never been nearly as interested in
my own happiness as in the well-being of the world, and along with
many others, I had done what I could to serve that cause, but clearly
it wasn't working. It was the late '60s, there were riots in the streets
of American cities, the Vietnam war was killing thousands of people
and dividing the country, the Cold War was raging between the U.S.
and the USSR (two nuclear-armed superpowers), crime rates were
high, and nobody knew what to do about any of it. When I heard
the speaker's persuasive argument—which boiled down to the simple
statement that individuals who are at peace within themselves create
a peaceful world—it made complete sense to me.

It was a beautiful message, and the audience—even those of us
standing in the corridor who had not been able to see the speaker—
listened intently. After a while, a few people started to leave the hall,
and I was finally able to get to the door and catch my first glimpse of
His Holiness Maharishi Mahesh Yogi, sitting cross-legged on the stage
on a couch neatly draped with white silk.

Small in stature, with long dark hair and a beard just beginning to
turn gray, wearing traditional white silk robes, the Maharishi moved
and spoke with an extraordinary combination of gentleness and
strength. His words were carefully chosen and his speech, although
simple, was highly articulate. He had a quick and lively wit and a
hearty laugh.

One thing was obvious: He was a happy man. Serene. At peace
with himself and the world. He answered every question posed to
him—some hostile, discourteous, provoking—with patience and
answered thoughtfully and thoroughly. Here was a man who was
sensitive to the suffering and confusion of modern life, who could
understand it and explain it, yet somehow remain unfazed by it.

At one moment, while discussing a point of philosophy, his intellect
seemed to dominate; his voice rose, his bright, clear eyes flashed,
and his hands moved quickly and decisively. Answering a different
question, he was the embodiment of love, his fingers caressing the
petals of a rose, his voice soft and full. He seemed complete in himself,
yet totally alert and responsive to those around him.

The Maharishi answered every question in terms of the technique
of Transcendental Meditation. He outlined the physiological effects
of its practice, explained the principles behind it, and showed the
relevance of the technique to whatever specific problems, individual,
social, or global, concerned the questioner. He emphasized that he
was not espousing philosophy or religion, or offering something to
"believe in" or accept on faith. Rather, he said, TM is a practical technique,
based on verifiable, scientifically validated principles. It is easy
to learn, and has immediate and practical benefits for all aspects of
life. And, although it was obvious that it was he who was bringing this
message to the world, the Maharishi took no credit for himself, but
expressed gratitude to his teacher for passing on to him this "wisdom
of living the fullness of life."

These were my first impressions of Maharishi Mahesh Yogi. My
first impression of Transcendental Meditation, gained a few weeks
later when I took the course offered by the Students International
Meditation Society, was that everything he had said was true.

Although I knew almost nothing about it at the time, the movement
that had grown up around Maharishi was already international
in scope. After thirteen years with his spiritual master followed by
two years of seclusion in the "Valley of Saints" in the Himalayas, he
had traversed the globe each year, starting in 1957, opening centers
throughout Asia, Africa, Europe, and the Americas, and the technique
of Transcendental Meditation that he taught was becoming increasingly
well known. But in the summer of 1967, something was to happen
that would change the course of history, for myself as well as
millions of others.

I was in New York that summer, working for my uncles' hardware
company, installing fences throughout the city as a helper with
their work crews. One muggy August afternoon after work, when I
returned to the apartment I was sharing, I picked up the newspaper,
and on the front page was a photograph of Maharishi with the phenomenally
popular musical group, The Beatles. When I took one look
at that picture, I said aloud, "My God, it's all going to change!"

And it did.
Click here to read the entire Introduction