Ayurvedic Secrets to Longevity and Total Health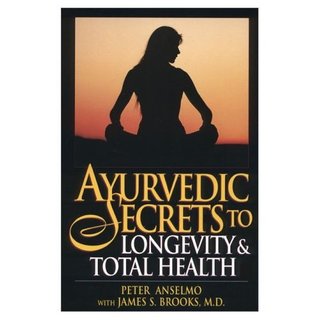 Amazon Reader Reviews:
"While I'm not an outright skeptic, I've had my doubts about books like this for years. No more. After finishing reading this book I immediately put into many of its practices and see (as well as feel) immediate results. I wish there was more on those of us with a mix of constitutions, but I can overlook that in favor of excellent writing, clear instructions, terrific insight, and practical tips. I'd recommend this to anyone new to the field or still with questions about its merit."

"As someone completely new to Ayurveda and/or the Ayurvedic approach, I found this book informative, interesting and worth the money. It was explained in a simple, linear fashion that I understood and can now incorporate. As for Ayurveda itself, I particularly appreciate the preventative approach behind the medicine, and the emphasis not only on the correct foods to eat, but the setting and manner in which we eat them."
TABLE OF CONTENTS
Introduction
PART I - AYURVEDA: AN ANCIENT SCIENCE REBORN
Chapter 1 - Ayurveda; An Ancient Science Reborn
Chapter 2 - Your Body Type: Master Key to Health
PART II - SIX KEYS TO PERFECT HEALTH
Chapter 3 - Eat Right for Your Body Type
Chapter 4 - Natural Strategies to Defeat Stress
Chapter 5 - How to Strengthen Your Immune System and Stay Healthy
Chapter 6 - Living in Tune with Nature: Daily and Seasonal Routines
Chapter 7 - Your Personal Body-Type Exercise Plan
Chapter 8 - Revitalizing and Healing with Herbs
PART III - AYURVEDIC STRATEGIES FOR COMMON HEALTH PROBLEMS
Chapter 9 - Natural Cure for Colds, Coughs, and Sinus Problems
Chapter 10 - Tune Up Your Digestion
Chapter 11 - How to Achieve Your Ideal Weight
Chapter 12 - Overcome Insomnia and Get a Good Night's Sleep
Chapter 13 - Say Goodbye to Menstrual Cramps and PMS
PART IV - UNFOLD YOUR FULL POTENTIAL: THE AYURVEDIC WAY
TO MENTAL AND EMOTIONAL WELLNESS
Chapter 14 - Beat the Blues: Ayurvedic Secrets to Help You Overcome
Depression
Chapter 15 - "Don't Worry, Be Happy" - Ayurvedic Secrets for Overcoming
Anxiety
Chapter 16 - How to Keep Your Cool: Ayurvedic Strategies for Mastering Anger
Chapter 17 - Ayurvedic Secrets for Fulfilling Relationships
Chapter 18 - Sex and Your Constitutional Type: Ayurvedic Secrets for Intimacy
and Fulfillment
Chapter 19 - Ayurvedic Secrets for Healthy Pregnancy and Childbirth
CONCLUSION
Chapter 20 - Ayurveda and the Future of Medicine